Fast and profitable container transportation – In professionals we trust!
If you want to transfer a product for a considerable distance, then container shipments will become irreplaceable. Such services today can be provided by a variety of modes of transport – land, sea, air. Thanks to the use of various types of transportation, it is possible to significantly shorten its terms. This is possible thanks to special containers, which are a box of metal with the necessary dimensions. The cargo necessary for transportation to Europe or other corners of the planet is placed inside it and reliably fixed.
What is the peculiarity of such transportation?
Loading and unloading of the goods carried is carried out using a mechanized method. If it is a question of especially fragile cargoes, then they prepare such container transportations from China and other countries manually. At the same time, there is a mandatory sealing of the box, and then its loading into transport (sea, automobile), registration of the relevant documentation. If necessary, the transport company provides the client with all the information about the location of the cargo at any given moment.
Why container shipping is so popular – the merits of the service
Having decided to order the services of container transportation in our company, it will be possible to receive transportation to Russia, Belarus and other countries with many unique advantages:
Versatility. Thanks to the standard dimensions of the containers, their international or domestic transportation can be performed using any type of transport – sea, road, air, railway.
Guarantees of safety and security. Thanks to metal containers, all products immersed in them are reliably protected from various mechanical damages and negative atmospheric factors.
Economical. Since all work on loading goods is carried out in an automated mode, and the transportation process itself takes the minimum amount of time and effort, this type of transportation will be the most economical solution for both the consignee and the shipper.
Moreover, the cost of container transportation wholly and completely pays off by its quality, reliability, and efficiency.
Types of containers
The container is the basic unit of transportation or storage used in transport logistics. Containers are made of different materials and shapes, but the most common are universal containers. The following types of containers are:
20-foot standard container
Dimensions
Length
Width
Height
External
20′ = 6096 mm
7′ 9.25″ = 2370 mm
8′ 6″ = 2591 mm
Internal
19′ 5.75″ = 5935 mm
7′ 8″ = 2335 mm
7′ 9.75″ = 2383 mm
Doors
—
7′ 8″ = 2335 mm
7′ 6.25″ 2292 mm
The weight
Max. gross
52910 lb. = 24000 kg
Tara
4585 lb. = 2080 kg
Max. loading
48325 lb. = 21920 kg
Cargo capacity (volume)
1197.25 lb.3 = 34 m3
40-foot standard container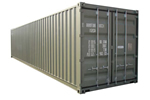 Dimensions
Length
Width
Height
External
40′ = 12192 mm
8′ = 2438 mm
8′ 6″ = 2591 mm
Internal
39′ 5.25″ = 12032 mm
7′ 8.625″ = 2352 mm
7′ 9.25″ = 2385 mm
Doors
—
7′ 8.25″ = 2343 mm
7′ 5.75″ = 2280 mm
The weight
Max. gross
66139 lb. = 30480 kg
Tara
8380 lb. = 3800 kg
Max. loading
57759 lb. = 26600 kg
Cargo capacity (volume)
2385 lb.3 = 67.5 m3
40-foot "high cube" container (increased capacity)
Dimensions
Length
Width
Height
External
40′ = 12190 mm
8′ = 2438 mm
9′ 6″ = 2896 mm
Internal
39′ 4″ = 12000 mm
7′ 7″ = 2311 mm
8′ 9″ = 2650 mm
Doors
—
7′ 6″ = 2280 mm
8′ 5″ = 2560 mm
The weight
Max. gross
68008 lb. = 30848 kg
Tara
8598 lb. = 3900 kg
Max. loading
58598 lb. = 26580 kg
Cargo capacity (volume)
2660 lb.3 = 75.3 m3
20 'Open Top Container
Dimensions
Length
Width
Height
External
20′ = 6096 mm
8′ = 2438 mm
8′ 6″ = 2591 mm
Internal
19′ 4.3″ = 5902 mm
7′ 4.1″ = 2240 mm
7′ 8.5″ = 2352 mm
Doors
—
7′ 7.9″ = 2335 mm
7′ 4.1″ = 2240 mm
The weight
Max. gross
52910 lb. = 24000 kg
Tara
5380 lb. = 2440 kg
Max. loading
475205 lb. = 21560 kg
Cargo capacity (volume)
1133 lb.3 = 32 m3
40 'Open Top Container
Dimensions
Length
Width
Height
External
40′ = 12192 mm
8′ = 2438 mm
8′ 6″ = 2591 mm
Internal
39′ 5.2″ = 12021 mm
7′ 8.4″ = 2350 mm
7′ 7.7″ = 2330 mm
Doors
—
7′ 8″ = 2338 mm
7′ 3.8″ = 2234 mm
The weight
Max. gross
79370 lb. = 36000 kg
Tara
9760 lb. = 4430 kg
Max. loading
69600 lb. = 31570 kg
Cargo capacity (volume)
2355 lb.3 = 66.7 m3
20ft Flatrack container
Dimensions
Length
Width
Height
External
20′ = 6096 mm
8′ = 2438 mm
8′ 6″ = 2591 mm
Internal
18′ 9.4″ = 5727 mm
7′ 4.1″ = 2240 mm
7′ 1.3″ = 2170 mm
Doors
—
—
—
The weight
Max. gross
66140 lb. = 30480 kg
Tara
500 lb. = 2950 kg
Max. loading
60690 lb. = 27530 kg
Cargo capacity (volume)
986 lb.3 = 27.9 m3
40-foot Flatrack container
Dimensions
Length
Width
Height
External
20′ = 6096 mm
8′ = 2438 mm
8′ 6″ = 2591 mm
Internal
18′ 9.4″ = 5727 mm
7′ 4.1″ = 2240 mm
7′ 1.3″ = 2170 mm
Doors
—
—
—
The weight
Max. gross
66140 lb. = 30480 kg
Tara
500 lb. = 2950 kg
Max. loading
60690 lb. = 27530 kg
Cargo capacity (volume)
986 lb.3 = 27.9 m3
20ft refrigerated container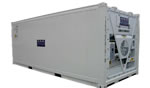 Dimensions
Length
Width
Height
External
20′ = 6096 mm
7′ 9.25″ = 2370 mm
8′ 6″ = 2591 mm
Internal
17′ 10.8″ = 5455 mm
7′ 4.98″ = 2260 mm
7′ 5.568″ = 2275 mm
Doors
—
7′ 4″ = 2237 mm
7′ 4.98″ = 2260 mm
The weight
Max. gross
59 520 lb. = 27000 kg
Tara
6 724 lb. = 3050 kg
Max. loading
52 800 lb. = 23950 kg
Cargo capacity (volume)
988.8 lb.3 = 28.0 m3
40-foot refrigerated container
Dimensions
Length
Width
Height
External
40′ = 12192 mm
8′ = 2438 mm
8′ 6″ = 2591 mm
Internal
37′ 11″ = 11555 mm
7′ 6″ = 2286 mm
7′ 5.76″ = 2280 mm
Doors
—
7′ 6″ = 2285 mm
7′ 4.38″ = 2245 mm
The weight
Max. gross
67200 lb. = 30480 kg
Tara
9634 lb. = 4370 kg
Max. loading
57560 lb. = 26110 kg
Cargo capacity (volume)
2126 lb.3 = 60.2 m3
20 foot sealed container
Dimensions
Length
Width
Height
External
19′ 10.5″ = 6058 mm
8′ = 2438 mm
8′ = 2438 mm
Internal
18′ 6.5″ = 5499 mm
7′ 4″ = 2237 mm
6′ 10″ = 2083 mm
Doors
—
7′ 4″ = 2237 mm
6′ 10″ = 2083 mm
The weight
Max. gross
44800 lb. = 16720 kg
Tara
5600 lb. = 2540 kg
Max. loading
39200 lb. = 17780 kg
Cargo capacity (volume)
929 lb.3 = 26.31 m3
20ft vented container
Dimensions
Length
Width
Height
External
19′ 10.92″ = 6068 mm
8′ = 2438 mm
8′ 6″ = 2591 mm
Internal
19′ 4.32″ = 5900 mm
7′ 7.4″ = 2323 mm
7′ 9.2″ = 2367 mm
Doors
—
—
—
The weight
Max. gross
24000 lb. = 10890 kg
Tara
2650 lb. = 1202 kg
Max. loading
213500 lb. = 9684 kg
Cargo capacity (volume)
—
20 'container for bulk cargo
Dimensions
Length
Width
Height
External
19′ 10.92″ = 6068 mm
8′ = 2438 mm
8′ 6″ = 2591 mm
Internal
19′ 1.8″ = 5838 mm
7′ 9.1″ = 2366 mm
7′ 9.4″ = 2374 mm
Doors
—
7′ 0.4″ = 2144 mm
280 mm x 300 mm = 11″ x 1′
Hatches
diameter 1′ 7.68″ = 500 mm
The weight
Max. gross
61800 lb. = 28030 kg
Tara
5600 lb. = 2540 kg
Container tank
Dimensions
Length
Width
Height
External
19′ 10.92″ = 6068 mm
8′ = 2438 mm
8′ 6″ = 2591 mm
The weight
Tara
61800 lb. = 28030 kg
Max. loading
68340 lb. = 31000 kg
Cargo capacity (volume)
24000 liters